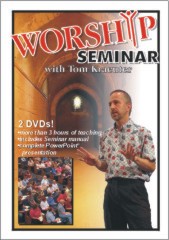 More than 20,000 people all across North America attended this seminar. Full of powerful teaching and practical, biblical insights, Tom's straight-forward, line-on-line teaching style is always impactful. Now you can watch the teaching anytime you want. In this 2-DVD package you'll get:
more than 3 hours of practical, biblical teaching.
the complete PowerPoint® presentation for the Seminar.
the Worship Seminar Manual in PDF format. You can print out as many as you need for use within your local church.
a copy of Adobe® Reader® to access the Manual.
People all over North America paid $35 each to attend this seminar. Now you can have unlimited use of the teaching with your local congregation for the cost of less than two of those Seminar registrations. Most churches spend far more than that just for their people to attend the Seminar for one day. With this DVD set you can have the teaching anytime you need it. It's sure to be viewed again and again.
Some of the topics include:
Overcoming the Obstacles to Worship
The Music Controversy
Building an Effective Worship Ministry Team
Moving Your Congregation Forward in Worship
The Heart of Worship
Here's a sample:

You'll use this DVD set over and over for teaching, training, reminding, refreshing. The practical, scripturally-based teaching has stood the test of time. Your entire congregation, including new members and even additions to your worship ministry, will benefit immensely. Order your copy today! (2 DVDs)
---
---