What's This All About?
At Training Resources, we're all about education. Our goal for WorshipMinute.com is to help teach the Body of Christ about worship from a biblical perspective. We like to say we're "Helping Christians understand worship, 60 seconds at a time."
These brief, to-the-point spots can help people grasp the real point of worship, as well as helping to create a God-consciousness. He is, after all, the one, true Object of our worship. (Just click the big blue button to the left to listen to today's Worship Minute.)
These 60-second spots from WorshipMinute.com, written and read by Tom Kraeuter, can be heard on radio stations across the U.S. and on hundreds of church websites. Contact us to get them on your church website or Christian Radio Station.
---
More Info:
Worship's Missing Piece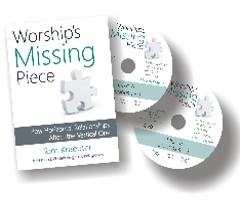 Some of the daily thoughts found on this site are also found in Tom's video series, Worship's Missing Piece.
Six sessions designed for small-group interaction, this series show how our horizontal relationships affect the vertical one. From a biblical perspective how our relationship with God — worship — is intrinsically tied to our relationship with one another — unity.
---
Worship in Heaven…and Why On Earth It Matters
Take a peek at the video for Tom's book, Worship in Heaven…and Why On Earth It Matters.

---
Becoming a True Worshiper
Many of these Worship Minutes are excerpted from the book Becoming a True Worshiper, by Tom Kraeuter.
This book has been used by individuals and small groups in churches all over the world. It is a practical guide to helping the average person understand biblical worship in everyday language.