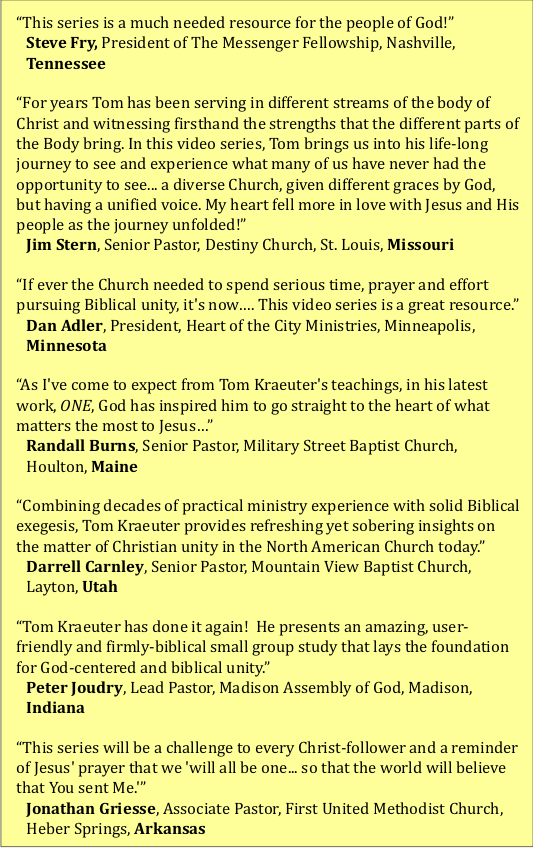 The night before He went to the cross, Jesus prayed over and over for His disciples, "Make them one." He even prayed that we would be one as He and the Father are one. In fact, He asked that we would be one so that the world would know that He was sent by the Father.
Those are serious prayers, aren't they? Yet, all too often, we in the Church have a tendency to minimize our disunity. We think it's not a big deal. But clearly, from the Lord's perspective, it's vital.
In an age where hatred and divisiveness are so prevalent, the Church has an opportunity to demonstrate true unity and love in a profound way. Are we up to the task?
Here's practical help.
What if the people in your congregation had a vision for walking unitedly together?
What if they were given practical tools to help them in that direction?
Do you think it could make a difference for your church?
Of course it would! That's why we developed "ONE."
Watch and listen as Christian leaders from all across the country talk about why biblical unity is imperative, where they've seen it, and how it could happen in your church. Add in practical, biblical teaching by Tom Kraeuter and this series will have major impact on your congregation.
Six sessions for small groups (sessions range from 25-30 minutes each).
---
Participant's Guides
Be sure to order enough of these for each person in your small group to have one. It includes thorough notes for each video session and great discussion questions for follow up. This Particpant's Guide is the key to making this video study successful. You know you're going to want your entire congregation to go through this, so why not go ahead and order at least 50 copies and get the best possible price?
Quantity discounts will be automatically applied to orders (the more you buy, the less each one costs):
6-19: $6.00 each; 20-49: $5.00 each; 50 or more: $4.50 each
---