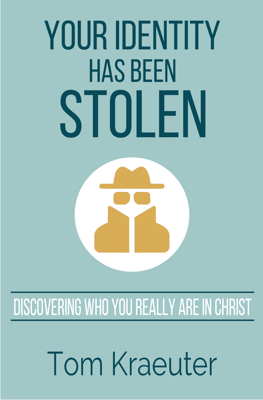 Your Identity Has Been Stolen:
Discovering Who You Really Are in Christ
Living with your identity fully grounded in Christ may be one of the most difficult challenges you will ever face as a Christian. Every single day, all around you, there are a myriad of other voices that are telling you something different, trying to steal your identity. They call out to you, coaxing you to believe anything but the truth.
"You're not good enough."
"You'll never measure up."
"You're a failure."
"God doesn't love you."
Your Identity Has Been Stolen is more than just a book title. It's a fact.
But it's time for you to get it back.
Why? Because when you really know your identity in Christ, there is a freedom and joy and confidence that are simply a part of that same package. Fully recognizing who we are in Him is the way God designed us to live.
---
"In lively stories that easily illustrate his points, Tom tells us something about ourselves and, more importantly, about God… [Tom] opens the scriptures in a very understandable way—and gives us good reason to believe them. This is a book worth reading!"
Bob Kilpatrick, author of The Ghost in the Cloud and The Art of Being You
"As a pastor, I not only benefitted from being reminded of who I am and Whose I am in Christ, I was thinking of the myriad people in the congregation I serve who would also greatly benefit from this book."
Randall Burns, senior pastor, Military Street Baptist Church, Houlton, Maine
"Your Identity Has Been Stolen… left me with a clearer understanding of who I truly am in Christ…. I loved it from beginning to end, and you will too!"
Ryan Sutton, co-author of Help for the Journey and Sacred Fire
(150 pages)
---
Paperback
Your Identity Has Been Stolen – paperback
ISBN: 978-1-62486-139-0
Quantity discounts will be automatically applied to orders: 1-9 $14.00 each; 10 or more $10.00 each
---
Or you can order from Amazon (Kindle or Paperback) Click Here
---