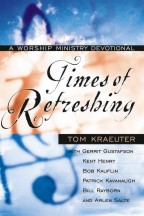 A Worship Ministry Devotional
Times of Refreshing is designed especially to strengthen you and the ministry of praise and worship in your church with 100 biblical, practical devotions.
Whether you read these insightful devotions with your worship team or on your own, you can count on Times of Refreshing to address topics that are close to your heart and essential to worship ministry, including:
a biblical view of worship
building relationships
heart attitudes
being an example
excellence
and much more.
Be refreshed as veteran worship leaders draw upon Scripture and their vast and varied experience to encourage and equip you in your calling.
Tom Kraeuter
Gerrit Gustafson, prolific songwriter, founder and president of WholeHearted Worship
Kent Henry, worship leader on six of Integrity's Hosanna! Music recordings
Bob Kauflin, director of worship development for Sovereign Grace
Patrick Kavanaugh, author of numerous books on music and worship
Bill Rayborn, publisher of The Church Music Report
Arlen Salte, Canada's number one Christian recording artist
One worship leader said this: "I just have one complaint about this book. A devotional is supposed to be something that you read for a few minutes and then read more later. I couldn't put Times of Refreshing down!"
(320 pages)
---
Paperback
Times of Refreshing – paperback
ISBN: 978-1-883002-91-5
Quantity discounts will be automatically applied to orders: 1-19 $15.50 each; 20-39 $14.00 each; 40 (full case) $10.00 each
---